Does Your Smart Home Have a Reliable Network?
A Professional Home Network Setup is Essential for Automated Systems
Here at Brock Technology Group, we like to think of home networks as the foundation of smart home automation systems. Just like you wouldn't want to build a home on a cracked or uneven foundation, you wouldn't want to try to run an automation system on a network that is unreliable, unsecured, or weak.
And yet many homeowners throughout The Woodlands, Texas area are relying on basic routers or networking packages from their internet service provider. The result is that you have areas of your home where you can't get a reliable Wi-Fi signal, you can't stream media to multiple devices at once, and slow or lagging performance is the norm. Not good.
Fortunately, there's a way around all of that. Keep reading to learn how a professional home network setup works and how it can impact the performance of your smart home.
How It Works
A typical home will have one router for the entire property. This router is responsible for sending out a wireless signal for all of the smart devices throughout your home. However, very few routers are strong enough to provide full wireless coverage in every room. Instead, the signal is usually strong around the router, then tapers off as you get further away.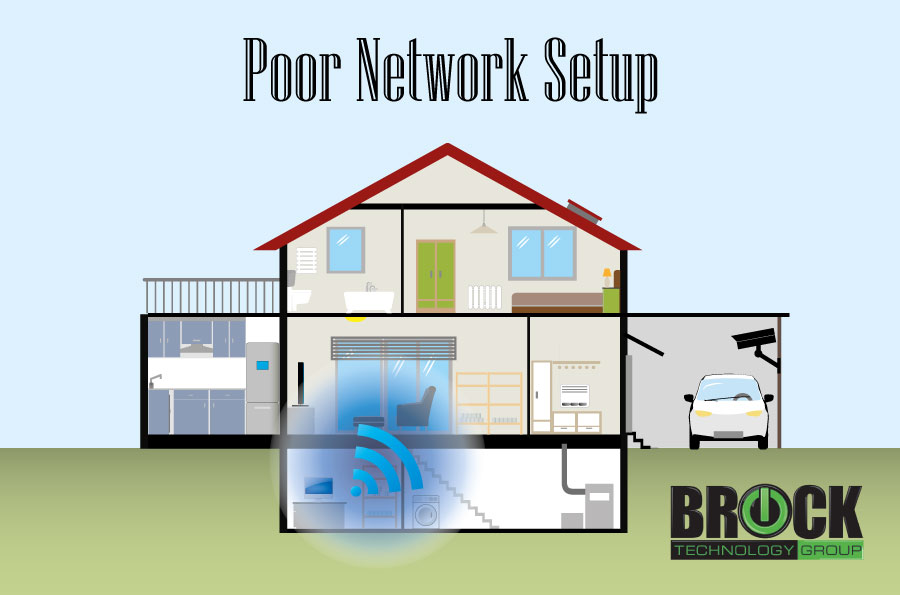 Depending on where your router is located, this could mean that entire areas of your property can't reliably connect to Wi-Fi. It's also worth mentioning that thick walls or large appliances such as refrigerators can also significantly weaken the wireless signal.
That's where a professional home network setup comes in.
The Better Networking Approach
Your networking professional will assess your home's layout and décor, then design a networking solution that will ensure top performance in every area. Using a variety of technologies such as wireless access points or secondary routers, the networking expert will strategically install devices that will boost the wireless signal. So instead of having gaps, like in the previous example, your home's internet coverage will look more like this:
How It Affects Smart Home Performance
Having a professional networking solution is about more than just being able to browse the internet on your mobile device. It's about having your smart home automation system operate as smoothly as possible—no matter how many smart devices you're using.
Here's what you can expect to see happen after upgrading your home network:
Faster Media Streaming:
Say goodbye to the frustration of trying to get a movie to load, dealing with buffering on a video, or listening to music that is chopping or delayed. Instead, all media will load quickly and stream without a hitch.
SEE ALSO: The Best Outdoor Speakers to Rock Your Party in Lake Charles
More Network Security:
It's terribly common for homeowners to leave their networks on the default settings, which in turn leaves their network exposed to hackers. With automation systems, this is a big concern. You don't want a hacker to gain access to the information stored on your network. A professional setup will include all the best security features to keep your home and information protected.
Fewer IT Issues:
If you keep having problems with your network, it's probably because it wasn't set up correctly. A professional network should operate smoothly at all times, without any of the hiccups that cause frustration on a daily basis.

If you're planning on adding an automation system to your Texas property, it's important to choose a smart home company that will create a complete, reliable, and secure solution for you. Brock Technology Group has more than a decade of experience delivering custom automation systems that exceed our clients' expectations.

To learn more about our smart home systems and services, give us a call at (409) 832-0276 or fill out this quick questionnaire and a member of our team will reach out to you.

No video selected.